This is a blog about cutting edge science and bipolar disorder.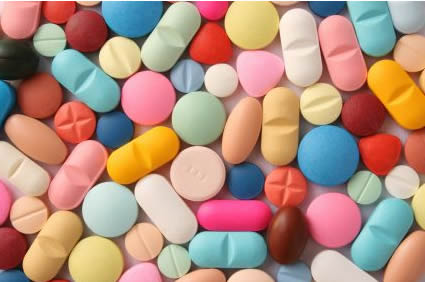 And here's the problem with
cutting edge science
and bipolar disorder: we get the
treatments
that could kill us or make us feel awful in a different way.
Of all the things I hate about being
mentally ill
(and there are many), it is the trading off my brain function for liver function, or one kind of brain function for another. Tweak one med and it means more frequent blood tests to make sure that my sanity doesn't kill the rest of me.
If you're like most people with a mental illness, this is the major reason people do not take their medications:
side effects
. Sometimes it doesn't even make sense to read the list of likely
side effects
, never mind the unlikely ones, because not taking psych meds can result in other ugly things happening. So you trade one bad thing for one good thing and hope it all works out in the end.
Lucky for me, I have a combination that works. Very well. But there are times they need an upgrade because the brain is not static. And the pill count gets higher or more complicated and if you have something else wrong with you it eliminates most of the drugs that could help with that problem.
For example, taking
lithium
means that lots of
hypertensive
drugs are off the table. If you take
olanzapine
, you may end up with diabetes (hmmmmm...... sanity or diabetes??). Benzodiazepenes which are used for sleep could make you an addict.
The reason people with
mental illness
are so bad with their
medication compliance
is not just that we feel better from taking them (which in any illness this is true) but because the side effects can be so irritating and health threatening. Anyone who takes lithium knows how annoying dry mouth is and the volumes of liquid consumed means that there are many trips to the toilet. And every 3 months you hope the blood tests don't show signs of liver damage or kidney trouble or perhaps one day you wake up and your thyroid no longer works.
Well, there dont seem to be very good answers right now. Perhaps one day science will find a way to target the parts of our brain causing us trouble and zap.... we're done. Until then, science has brought us some compromises that require us to make tough choices about our lives. So we take them as instructed and keep track of our side effects and if they get too bad, we try something else until if we're lucky we find something that works.
What choice do we have???